Medium Voltage
Product Introduction

VOLTAGE CLASS
Up to 36kV

CONTINUOUS CURRENT
Up to 2500A

RATED SHORT TIME WITHSTAND CURRENT (lk)
Up to 31.5 kA
Modularization
Modularized design for each part of panels that the assembly failure decreases dramatically.
Modularized design makes materials stockable thus helping raise efficiency on production and shorten manufacture and delivery time.
Enclosure
2.0t high corrosion resistant galvanized zinc alloyed steel adopts two-layer folding and bending technique which strengthen the structure.
It is fully certified with performance on arc, earthquake resistance, salt spray, and ground continuity.
Compartment
Separated compartments for primary apparatus such as CB compartment, Cable compartment, Busbar compartment, and Meter compartment.
Certification of LSC2B-PM, featuring interlock for safety.
Volume
Compact cubicle, min. width is 800mm, increasing plot ratio and reducing accommodation of substation.
Eco-friendly
Galvanized zinc alloyed steel cabinet held together with rivets without painting and welding which greatly reduces pollution to the environment.
There is no need to reorganize and replace busbar when replacing breaker, disconnecting switch, potential transformer components and so on.
Trolley
Equipped with racking trolley, CB, DS, and PT can move easily and rapidly thus shorten the duration of maintenance.
For high power consumption user, trolley can be equipped with electric operation to shorten duration of maintenance and labor cost.
Interlock
CB, control unit, earthing switch, and equipped with interlocks which prevent false operation and improve safety on maintenance.
Certified with the highest level of interlocking standard, the switchgear is secure and stable without further equipment.
NO.
Description
Unit
Rated specification
1
Phase
P
3
2
Rated Voltage (Ur)
kV
12/24
3
Rated Current (Ir)
A
630/ 1250/ 1600/ 2000/ 2500
4
Rated Frequency (Hz)
Hz
50/60
5
Rated Short Time withstand Current (main circuit and earthing circuit) (Ik)
kA
16/ 25/ 31.5
6
Rated Peak Short Circuit withstand Current (main circuit and earthing circuit) (Ip)
kA
42/ 65/ 82
7
Rated Duration of Short Circuit (main circuit and earthing circuit) (tk)
S
3
8
Rated Power Frequency Withstand Voltage (Ud)
kV
28/ 50
9
Rated Lightning Impulse Withstand Voltage (Up)
kV
75/ 125
10
IP rating (Cabinet door close/Open)
Class
IP4X/ IP2X
11
Rated supply voltage of closing and opening devices and of auxiliary and control circuits (Ua)
V
110~220 AC/DC
12
Internal arc-fault test
Rating of internal arc
Class
IAC
Accessible Type
Class
A Type(F、L、R)
Rated short time withstand current
kA
16/25/31.5
Rated duration of short time withstand current
S
0.5/1
13
Loss of service continuity category
LSC2B
14
Partition type
PM
15
Compartment
CB compartment
Interlock
Bus compartment
Interlock
Cable compartment
Interlock
16
Rating of earthing switch characteristics
Class
E1/E2
Class
M1/M2
kA
25
S
3
17
Seismic (Earthquake) resistance
g
X-axis
Y-axis
Z-axis
(Value up to 7)
18
Electromagnetic compatibility (EMC)
Class
3
19
Partial discharge
pC
≦100
20
Ground continuity of enclosure (DC 30A)
V
≦3
21
Corrosion resistance on salt spray
Hr
≦1000
22
Dimension(W*D*H)
mm
800×1910×2530
1000×1910×2530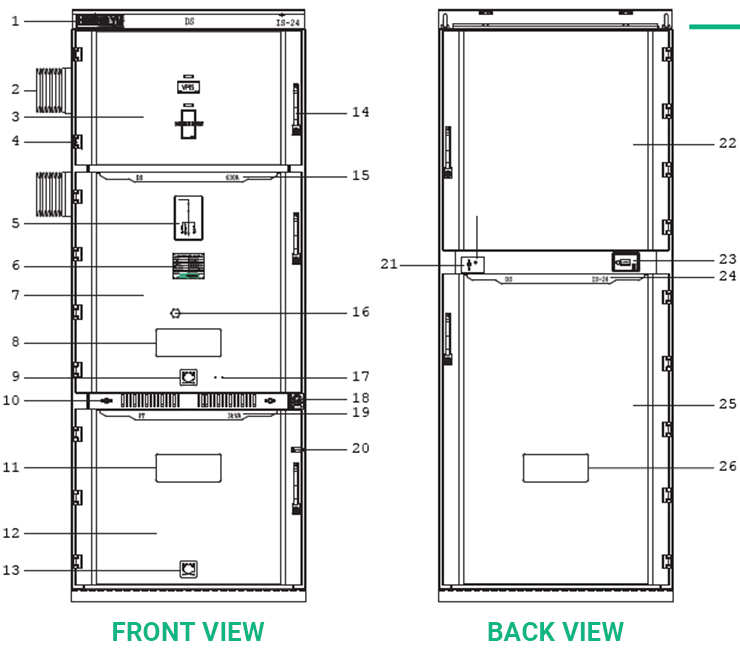 Namebar marked with manufacturer, panel name, and type
24kV wall insulating bushing
Dashboard on LV compartment (explosion-proof front panel)
Door Hinge
Analog busbar system plate (Optional)
Nameplate
Explosion-proof front panel of CB compartment
Inspection window of CB compartment
Opening for CB operation (lockable)
Mortice of CB trolley fixed position
Inspection window of Spare compartment
Spare compartment door (SPHC Painting)
Opening for PT trolley operation (lockable)
Door handle (optional: lock or power the prevention lock)
Nameplate of CB rated current
Emergency trip opening (optional)
Emergency dismantlement screw of door interlock device
Opening for earthing switch operation (lockable)
Nameplate of PT specification
Emergency dismantlement screw of front door of Spare compartment
Electromagnetic lock of below rear door (optional)
Upper rear panel
Luminaire for Cable compartment (optional)
Nameplate marked with panel name and type
Below rear panel
Inspection window